In his itinerant early years, the one-man creative conglomerate attended no fewer than 18 schools. His college education ended in his sophomore year at Arizona State Teachers' college in Tempe (now ASU) when he took a radio job. Not long thereafter, he joined the infantry in World War II and was stationed at Camp Roberts, California.
Back in Phoenix after his discharge, he resumed his work as announcer-writer-pianist-producer at Station KOY, honing and perfecting his style of comedy.
Three years in local radio proved valuable training ground. He discovered he could write and deliver funny material, and that funny things seemed to occur to him unbidden and unexpectedly.
In 1945, already the father of an infant son and with another soon to come, he took his total savings of $1,000 and headed to Los Angeles to break into big-time radio. After some local station work, Allen teamed with announcer Wendell Noble and managed to get the Mutual Broadcasting Company to air a five-a-week comedy show called Smile Time. After two years on Mutual, Steve landed a half-hour music-talk show on KNX, the Los Angels CBS radio outlet.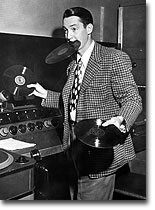 Without fanfare, interference, or encouragement, he gradually cut back on the music and increased the talk. He also started inviting Hollywood celebrities to come and plug their latest movies or albums. Within a year, Allen's program expanded to an hour and became the most popular nighttime show in the history of Los Angeles radio, with standing-room-only studio audiences.
One evening, when Steve had a 25-minute segment of the program set aside for a Doris Day interview, Doris didn't show up. With the large programming hole to fill, Steve picked up a floor microphone and, for the first time, walked out into the studio audience to ad-lib with some of his unknown visitors. As they say in the biographies of the stars -- which is reason enough to say it here -- the rest is history.