By 1950 Steve had established his credentials in Los Angeles as an ad-lib comedian with a show described as having an "anything-goes" structure. (It turned out, actually, to be a dress rehearsal for the Tonight show to come.)
CBS decided that Steve was ready for the big time -- which in 1950 meant television in New York. For the next three years, he starred in a number of early evening and daytime shows, made the guest circuit on such shows as This is Show Business and What's My Line?, and for over a year emceed a weekly series called Songs for Sale.
Professionally, Steve had reached a successful but to him unsatisfactory plateau. At the same time, his marriage was undergoing difficult times and finally ended in divorce.
At a low point professionally and personally, two things happened which happily reversed the picture. NBC had a title -- Tonight -- and ninety minutes of air-time. They turned it over to Steve Allen, who had developed the nightly local show that shortly became a national institution.
Secondly, Steve met Jayne Meadows.
Jayne, talented and popular actress of motion pictures, television and the Broadway stage, was born in Wu Chang, China, where her parents were Episcopalian missionaries for 14 years. When she came to America at age seven, she spoke Chinese but was just learning to speak fluent English.
A woman of many talents and far-ranging knowledge and experience, Jayne had visited every continent except South America and Australia by the time she met Steve. She had starred in films with Katherine Hepburn, Gregory Peck and David Niven, and on the Broadway stage in Another Love Story, Kiss Them for Me and Spring Again.
Within a year, Jayne and Steve were married. Within the same year, the Tonight show, now on the full NBC-TV network, was the most talked-about program on television, catapulting Steve into the ranks of TV's superstars.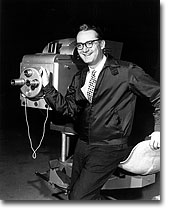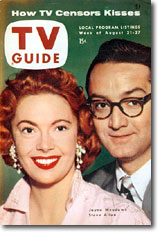 But it was the love and security provided by Jayne that gave him the confidence and peace of mind to discover several other Steve Allens --lurking somewhere within the ad-lib wit who headed the Tonight show.
By 1956, Tonight had spawned such future stars as Steve Lawrence and Eydie Gorme (when asked if he discovered Steve and Eydie, Steve replies, 'Yes, in the back seat of a car.') and Andy Williams. Among stars who appeared with Allen early in their careers are Louis Nye, Don Knotts, Tom Poston, the Smothers Brothers, Don Adams, Bill Dana, Jim Nabors, Jackie Vernon, Lenny Bruce, Jonathan Winters, Tim Conway, Lou Rawls, Jackie Mason, and the Muppets - the list is almost endless. And some of television's top producers made the big leap with the helpful push from Steve: Dwight Hemion, Bill Harbach, the late Nick Vanoff, Dan Melnick, Leonard Stern, Jeff Harris, Bernie Kukoff, Bill Persky and Sam Denoff, to name a few.
For a number of months in 1956, Steve was doing the 90-minute nightly Tonight show, an hour-long comedy show opposite Ed Sullivan every Sunday night (The Steve Allen Show), and still somehow managed to film the Benny Goodman Story for Universal-International. But the incredible pace was too much even for his seemingly limitless energy.
He decided to give up the nightly late-night show and suggested to NBC that either Jack Paar or Ernie Kovacs would serve as an excellent replacement. NBC chose not to follow his advice and, instead, came up with a program called America After Dark. After a few yawnful months during which more and more Americans went to sleep earlier and earlier, the network decided that Steve had been right after all. Jack Paar and most of the nation agreed.
The Sunday night prime-time Steve Allen Show continued without interruption through 1960 in a neck-and-neck ratings battle with The Ed Sullivan Show. After winning the Peabody Award for the best comedy show of 1960, Steve finally bowed off the network after seven years with NBC.