New Musical "A Christmas Carol" Ends Successful Run in December, 1999.
Steve Allen showcased his musical and stage talents when he wrote and stared in a first-run musical version of "A Christmas Carol," which ended its successful run at Theatre West in Hollywood in December.
Steve appeared onstage as Charles Dickens, narrator of the piece. Appearing in the role of Scrooge was noted Broadway, film and five-time Emmy nominee, actor Harold Gould, who previously appeared at Theatre West in "The Price," and in solo performance as "Freud." Mr. Gould, who won the L.A. Drama Critics' Circle Award for "Incommunicado," has most recently appeared in a major role in the film "Patch Adams" with Robin Williams. The show was produced and directed by the award-winning John Gallogly.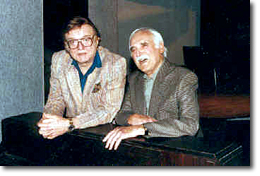 Steve Allen and Harold Gould
Several of Steve Allen's musicals have been produced over the years, the first being "Bachelor," which may have been the first TV musical. It was broadcast over NBC in the early 1950's, starring Carol Haney, Hal March and Julie Wilson. From that score, two classic standards emerged, "Impossible," which was a huge hit for singer Perry Como, and "This Could Be the Start of Something Big," (which became the theme music for the Steve-Allen-originated "Tonight Show.").
Allen also wrote a musical based on the life of Sophie Tucker ("Sophie,") which received ecstatic reviews from Broadway critics. Allen, whose musical output now numbers over 8,500 songs, also wrote 19 songs for the CBS-TV production of "Alice in Wonderland."