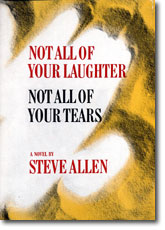 Not All Of Your Laughter,
Not All Of Your Tears

Steve Allen, himself a famous show business personality, here takes you behind the scenes of his special world in his first novel. The author of Mark It and Strike It, The Girls on the 10th Floor and five other highly acclaimed nonfiction books and short story collections has created his most significant work in this powerful and controversial novel.
Dan Scanlon, a successful Hollywood song writer, married and the father of three children, falls hopelessly in love with another woman. A Catholic married to a Protestant, he feels that he cannot seek divorce Ė and yet he cannot bring himself to part with Elaine.
As the affair gains momentum, the marriage wanes. Dan and Elaine take flight to New York, where the path of true love could not run less smoothly. Danís career becomes only slightly less rocky than his marriage, but in the end, with the aid of a man of remarkable wisdom, Dan finds peace.
Some readers will object to this novelís remarkably frank approach to marriage and religion, and to sex, but many, many more will find in this unusual book on of the most engrossing and honest love stories they have read in years.