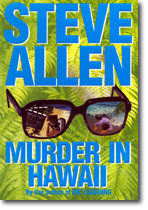 Murder in Hawaii

Check your local listings, fans, because Steve Allen, renaissance man and detective extraordinaire, is returning to television. But this time the master of the comic whodunit is the prime-time target of a killer when he discovers a diabolical net-work of mystery and murder on the sun-drenched beaches of Hawaii...
It's an offer Steve Allen and Jayne Meadows can't refuse: guest-starring on the new hit detective series, Hawaiian Wave. It means two juicy roles as polo-playing villains, a vacation in Oahu, and acting opposite their friend Billy Markham, Hawaiian Wave's handsome rising star.
But Billy's casting call has an ulterior motive. The heartthrob claims he's had some heart-stopping scares, courtesy of a secret stalker-and he needs the droll detective duo to look into it. No sooner are Steve and Jayne ensconced in their luxury suite at the Royal Hawaiian than the spray of the warm surf seems to be carried by a sinister breeze. Someone has tampered with the brakes on Billy's car, which sends him into a less- than-macho panic. But the tide really turns when the body of a Hawaiian Wave executive is found floating off the shores of Hanauma Bay. Sifting through the sand for clues is going to take an on- target performance from Steve and Jayne, especially as filming for Hawaiian Wave gets rolling. When a second body turns up, it becomes as clear as the crystal blue waters of Waikiki that a brilliantly conceived murder plot is being played out...off camera. Next on the schedule: murder scene, take 3.
But who's going to play the stiff? And which one of the suspects is calling "Action!"
From the struggling co-star who'd kill for a big break to the stuntman who knows every dangerous trick of the trade, someone is trying to upstage Billy to death, and rewrite Steve and Jayne's Hawaiian escapade into a
deadly real-life adventure. All the savvy sleuths must do is discover who's moonlighting as a murderer....before they're Doth written out of the script for good.