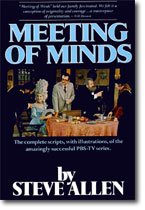 Meeting of Minds --- Complete Scripts -- First Series

The award-winning PBS_TV network series "Meeting of Minds" has received a more enthusiastic and complimentary reaction than any program ever carried on American educational television. Small wonder then that the nation's television critics voted its scripts as Best TV Writing of 1976-77*
Here are the complete scripts of the series. The program –unique, ingenious, and creative—brings together some of history's most significant figures and elicits a crosscurrent of ideas and beliefs and illuminates the past, the present, and even the future. One reviewer has called it the most fascinating talk show of all.
One show brings together THEODORE ROOSEVELT, THOMAS AQUINAS, THOMAS PAINE, and CLEOPATRA discussing ideas and experiences concerning which they have special knowledge.
Other shows bring together MARIE ANTOINETTE, SIR THOMAS MORE, KARL MARX, and ULYSSES S. GRANT. On the next pair of programs ATTILA THE HUN, EMILY DICKINSON, GALILEO, and CHARLES DARWIN strike intellectual sparks.

The script is wonderfully entertaining....Crazy as this grouping may sound, it works...we ought to have more such jeux d'esprit on television.
- Karl E. Meyer, Saturday Review

"Meeting of Minds" is entertaining, though-provoking and highly educational....Just the idea of bringing these historical figures to life, with their words heavily researched, is a trip in itself.
- David Sheehan, KNXT-TV



An intellectual and entertaining exercise...a rich display of multiple points of view.
- Morton Moss, Los Angeles Herald Examiner

Skillful, serious, yet immensely entertaining.
- Tom Barensfeld, Cleveland Press

Endorsed by the National Education Association, which is urging its 1,800,000 teacher members to assign student viewing to the programs as a supplement to regular classroom study...solid entertainment.
- Bruce Blackwell, TV Week

Brilliant in conception and particularly in execution.
- Lawrence E. Spivak, Meet the Press

Everything about it seemed perfect to me. The writing was magnificent.
- Joel Wells, The Critic

The best, most original TV far since the boob tube was invented.
- Dr. Max Rafferty, Dean of School of Education, Troy State University, Alabama, Nationally syndicated columnist.