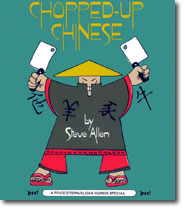 Chopped-Up Chinese

This paperback novelty book is a prime example of Steve Allenís talent for word play.It was published by Price Stern and Sloan , publishers of the popular Mad Libs series of books and games which were first introduced to television audiences on the original Steve Allen Show.
The book cover points out that at the time he wrote this book, Steve Allen had visited China twice.
Fittingly, he had been inspired to write two books about China.
This is the silly one.