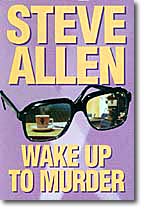 Wake Up To Murder
(Edited from the book jacket cover)

Hailed by Sidney Sheldon as "a master of the comic who-done it," Steve Allen -- America's favorite amateur detective -- is back. This time, Steve and his glamorous wife Jayne Meadows return to television, just in time to tune in to a highly rated new series -- of murders.
Steve Allen has just been asked to fill in as host of Good Morning U.S.A., the country's most popular morning talk show. His debut is barely underway when the program is interrupted by technical difficulties: a soundman has just been strangled with a microphone cord.
There's no shortage of suspects, from the perky co-host, whose on-camera smile conceals a troubled past, to the show's producer, who's terrified of getting killed in the ratings to a TV weatherman who predicts the onslaught of a deadly storm. But a new performance is on the killer's schedule as, one by one, the show's cast and crew get the ax...
The trail of puzzling clues leads to a surprising prime-time climax in New York's glittering "21" Club. Now, while all America watches, Steve and Jayne must clear up some very bad reception in order to solve a murderously clever mystery...before someone cancels their performance--permanently.
Written with his trademark sense of style and fun, Steve Allen's WAKE UP TO MURDER blends the authors' showbiz savvy with the wicked wit and engaging suspense that readers have come to expect from one of America's most beloved and enduring entertainers.