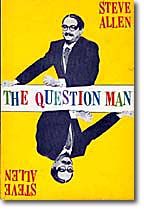 The Question Man
Bellmeadow Press, with Bernard Geis Associates -- 1959

An hilarious review of some of Steve's most famous "Answers" and "Questions" introduced by The Question Man on his TV show.

(Edited from the book jacket cover)
Steve Allen Exposed
Steve Allen is a young composer who several years ago decided to try his hand at being a comedian
No, that's not right.
Steve Allen is a young comedian who has written five books, scores of magazine articles, TV and movie scripts, plus a...
No, that's not it either.
Steve Allen is a well-known movie-actor who has written over two thousand songs, among them such popular standards such as Impossible, Picnic, South Rampart Street Parade and Pretend You Don't See Her. In addition, he...
No, still not right.
Steve Allen, who starred on Broadway in "The Pink Elephant," is a pianist with a dozen best-selling record albums to his credit. He also...
Let's try this once more.
Steve Allen, whose TV program won the respected Peabody Award as Comedy Show of the Year in 1959, is a...well, he's sort of a versatile nut. Would a rational man sit around photographer Gene Lester's studio with no clothes on posing for pictures for a crazy book like this?