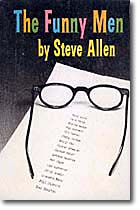 The Funny Men
Simon & Schuster -- 1956

(Edited from the book jacket cover)

It has somewhere been pointed out that the number of people in the United States who have a sense of humor is roughly the same as the number who play the piano. Now, no one who can't play the piano ever steps up to one at a party and tries to ripple off a sonata. But people utterly without a sense of humor seem to have no hesitation about trying to be funny. Which is a roundabout way of saying that most books about humor have been written by people who don't have it.
This is the one noble exception. It is a comedian's-eye view of comedy. We have had critics, philosophers, butchers, bakers, and candlestick makers airing their ideas about television comedy. Here for the first time is a survey of the field from someone who is up to the larynx in it.
There are probably sixty million people who will testify that Steve Allen has a pretty good idea of what is funny and what isn't. (Leo Guild, TV-radio critic for The Hollywood Report, calls Mr. Allen, "the funniest man in TV for 1955). That he happens as well to be something of a philosopher of humor may not come as too much of a surprise to that portion of his audience interested in such technical points as 1) What is the relation of a particular comedian to his audience? 2) What is he best at? 3) Where does he fall flat on his face? 4) Why do people laugh at him? Mr. Allen, a connoisseur of laughter, answers these questions and a lot more about the sixteen famous comedians he analyzes in The Funny Men. The comedians include:
Fred Allen, Jack Benny, Milton Berle, Red Buttons, Sid Caesar, Eddie Cantor, Wally Cox, Jackie Gleason, George Gobel, Arthur Godfrey, Bob Hope, Sam Levenson, Jerry Lewis, Groucho Marx, Phil Silvers, Red Skelton.