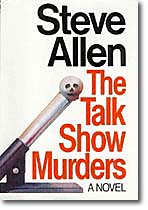 The Talk Show Murders
A Novel
(Edited from the book jacket cover)
Elmo Finstetter was dead. Not only that -- he was murdered on national TV, right in front of millions of his devoted rock fans. Toni Tennille, the hostess of the talk show he was appearing on, was horrified. But little did she or anyone else realize that this was merely the beginning of a series of bizarre murders that would send shock waves through Hollywood for months to come.
The real question was why -- why were all these murders taking place on talk shows? Why were all these victims, ranging from dazzling celebrities right down to regulars in the studio audience, getting bumped off on camera, in full view of millions of loyal talk show watchers? What kind of psychopath would need such an audience for his ghoulish crimes, and would the talk shows ever make a comeback now that almost no one was willing to appear on them-- for obvious reasons?
Steve Allen didn't know the answer. Neither did Johnny Carson, Merv Griffin, Mike Douglas, Dinah Shore, Dick Cavett, nor any of the other talk show hosts whose ratings were plummeting because of the vicious, random murders. What they did know was that things couldn't go on like that. So they decided to take matters into their own hands.
With the warmth, intelligence and sparkling wit that people have come to expect from him, Steve Allen has created a brilliantly entertaining masterpiece of suspense. Certainly a star-studded novel by on the biggest all-time stars, The Talk Show Murders is not only another feather in the multi-talented Mr. Allen's cap, it establishes him once and for all as first-rate literary talent.