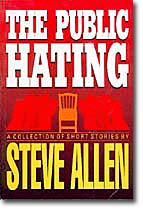 Available from
The Steve Allen Store.
Click here.
The Public Hating
A collection of short stories by Steve Allen
This is a collection of stories which takes the name of one of the tales as title for the collection. The Public Hating itself has been published in a number of anthologies, as well as in Germany, Sweden and Japan. It says something important about the disturbing phenomenon of mass-hatred.
Stories:
Irene
The Cats
The Sidewalk
Joe Shulman Is Dead
The Girls on the Tenth Floor
The Award
The Secret
One Reason Television Is So Terrible
The Italian Voices
Houston Incident
Everybody Hates David Starbucks
The Southern Accent
The House In Bel Air
The Pigeon
The Interview
The Saint
"I Hope I'm Not Intruding"
The Strangers
The Scribbler
The Blood of the Lamb
Point Of View
The Sunday Morning Shift
The Public Hating