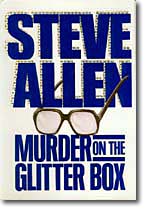 Available with Steve Allen's and Jayne Meadows'
autographs exclusively from
The Steve Allen Store.
Click here.


Murder on the Glitter Box
(Edited from the book jacket cover)
Steve Allen's wit, charm, and musical talent have made him him one of America's most beloved entertainers. Now this veteran show-business personality has written--and stars in--a mystery thriller as refreshingly funny and enjoyable as Steve Allen himself.
It all begins quite innocently, as these things usually do. Terry Cole, king of the late-night talk shows, needs a vacation. Steve Allen agrees to step into the breach. But when one of his guests drops dead on stage--poisoned from Cajun vodka in Terry's on-stage refrigerator--Steve suddenly finds himself in the middle of a sensational murder case.
Who was trying to murder whom? Was Steve Allen the intended victim? Or was Terry Cole? Terry certainly has more than his share of enemies, among them:
- Kathleen, his gorgeous ex-wife, whose well-publicized divorce from Terry left her with a thirst for revenge.
- Tessa Moore, his rival in the talk-show ratings, whose foul mouth doesn't exactly hide her intense ambition.
- Sonny Melnik, the producer Terry's been walking over for years.
When Steve discovers that he is also a suspect, he decides it's time to break the case wide open. And as he stumbles his way brilliantly to the thrilling conclusion, he decides the words Steve Allen, detective at large have a nice ring to them.