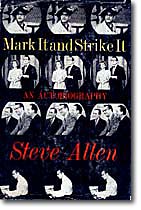 Mark It and Strike It
An Autobiography
Holt, Reinhart & Winston -- 1960

(Edited from the book jacket cover)

In this stimulating and provocative memoir, the talented, many-faceted Steve Allen speaks of, by , and for himself. With wit and candor he reveals the real man behind the piano-playing, song-writing funnyman his audiences know so well.
This is not an "as told to" autobiography. It is the work of a man who has written books, poems, articles, and stories; composed hit tunes; starred in motion pictures; and whose television variety program won a 1959 Peabody Award as Comedy Show of the Year.
But even who know of Allen's versatility will be surprised by the true, no-punches-pulled story of his rise to the top. He writes frankly of his early life "in the trunk" of his vaudevillian mother, of his failure in his first job, of his ironic success as a disc jockey who didn't play records. He also relates anecdotes of more recent and more prosperous days -- describing the zany explosions of the old Tonight show, the weird experiences that are part of being a celebrity, and the bizarre characters who worked with him on and off the air He writes movingly, too, of the warmth and contentment of his life with Jayne Meadows and his four sons.
Above all Allen paints an intimate self-portrait of a man whose public image bears little resemblance to his private concerns. A self-styled "would-be intellectual," openhearted and open-minded, he has deep convictions about nuclear warfare, civil rights, prayer, and education -- and is not afraid to translate his beliefs into action.
Sparkling with Allen's tremendous zest for life, Mark It and Strike It reveals a fascinating human being who is as entertaining and original on paper as he is on camera.