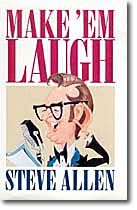 Make 'em Laugh
(Edited from the book jacket cover)
The success of Steve Allen's How to Be Funny led first to the republication of that book and has now occasioned a companion volume, Make 'em Laugh. This new how-to book about the art of comedy includes an even richer assortment of examples of the author's unique humor.
Allen laces his formal instruction with hilarious adlibs, written jokes, TV comedy sketches, satires, song parodies, humorous essays, amusing autobiographical reminiscences, one-act plays, witty speeches, and stand-up monologues from his comedy concerts.
Allen is probably the most borrowed-from comedian of all time. The perceptive reader will recognize in this book many oft he comic ideas that he originated during the golden age of television comedy, ideas that are still influential in the 1990's.
If there were a college course in creating and performing comedy, Make 'em Laugh would be the ideal textbook.