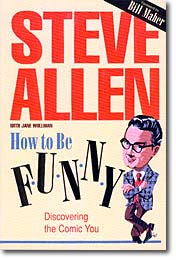 Available for purchase in
The Steve Allen Store.
Click here.
How to Be Funny
Forward by Bill Maher
(Edited from the book jacket cover)

No one knows more about comedy than Steve Allen. For four decades as a writer, performer, and keen observer of the social scene, he has looked into every aspect of who's funny, and why. Now he shares his discoveries in a book designed to help every reader develop his or her special talent for funniness. For anyone who wants to be a more amusing conversationalist, a more effective public speaker, or just more fun to be around, How to Be Funny is as foolproof as a Steve Allen punch line.