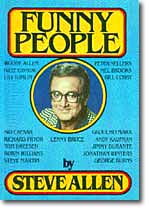 Funny People
Well, if you like Steve Allen, you are going to love this book because Steve Allen, who has written best-selling books on lots of subjects, has now written one in the field for which millions of Americans consider him to be the longest reigning authority. He has not only entertained us with his humor for decades, he has understood why we are entertained.
Here in Funny People--which is, incidentally, a very funny book--he conveys by anecdote and example the unique genius of many of the great comedians who have delighted our lives: Woody Allen, Mel Brooks, Benny Bruce, Sid Caesar, Jimmy Durante, Bill Cosby, Groucho Marx, Peter Sellers and others.
For instance, once you sample Steve Allen on Woody Allen you'll know why Woody seems so funny (sometimes on the most serious subjects) and the next time you see a Woody Allen movie you'll enjoy it twice as much because you'll know how it's done.
The same goes for all your other favorites, because what Steve Allen gives his readers is unforgettable insights into what makes us laugh. And laughing, as we've heard about from Norman Cousins in his bestseller Anatomy of an Illness, is about the best cure we have for almost everything.
You'll forget about the recession, taxes, children, politics, business, badness, and all the other headaches on the planet because you have in your hands is a book of sheer joy and everlasting insight, a fit for yourself that you'll want to share with others.