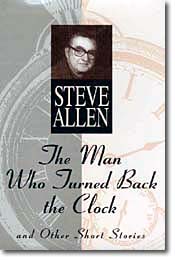 The Man Who Turned Back the Clock
and Other Short Stories
(Edited from the book jacket cover)
In this fascinating collection of his unique tales, Steve Allen's America's premier humorist and one of the true Renaissance men of our time, reveals the breadth of his writing talents as he weaves a compelling array of stories about fields as diverse as comedy, religion, politics, racial prejudice, homosexuality, sex, love, and murder, and -- well, the human predicament generally, which he perceives as essentially tragic. Some of his stories are chuckle-aloud funny, others are emotionally sensitive or shocking and disturbing.
The best-known story in the collection is the chilling "The Public Hating," a science-fiction treatment of the phenomenon of mass hatred. "Quiet Desperation" details a father's frantic search for the "cause" of his son's homosexuality. "The President," the action of which takes place in the White House, is as modern as today's headlines and crackles with adventure-novel drama.
Perhaps the most ancient advice given to authors is, "Write about what you are familiar with, what you know about." To judge by these stories, Steve Allen would appear to know a great deal.
Whatever the style, topic, the stories are vintage Steve Allen and will delight and intrigue readers of all tastes.