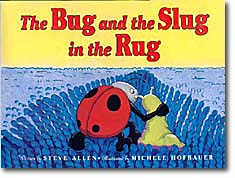 The Bug and the Slug in the Rug
A bug, who routinely travels through a rug, one day is startled to come across a slug traveling along the same path. The bug has never seen a slug before, nor has the slug ever, ever met a bug. Through a series of witty verbal exchanges, as can only be told in the inimitable style of Steve Allen, the two discover they may, despite obvious physical differences, have a lot in common.
Illustrated by Michele Hofbauer
Michele Hofbauer is a freelance artist and illustrator whose works have been sold throughout the United States as well as internationally. This is Michele's second published book since, "All The Letters" (Greene Bark Press 1993). She currently resides in Trumball with her husband John and son Michael.